They play, they nap, they whimper, they gnaw, they escape. They do what puppies do everywhere. It begins with helplessness, then a hunger to copy elders and siblings. Curiosity slowly turns to cunning, and the pup grows quickly towards Wolf. We followed their family for weeks - days when the sun never set and the pack walked for hours on end. These kids, exhausted as toddlers, piled themselves in fluff torn from a musk ox. They were born in arctic spring and had never seen the night. They had no way to know the coming months of winter dark. These were the children of summer. Back in the bright heat of my neighborhood this year, two families across the street brought home puppies at the same time, unplanned. One pit bull, one shepherd, these neighbor pups have grown up playing together always with a chain link fence in between. They yelp at one another, licking steel mesh on both sides. All they seem to want is to roam together, and for them it has always been impossible. They say domestication makes us all into puppies, that it takes childlike docility to survive in human society. If this is true, it must extend to us, for it has ben said to live in heaven we must somehow be like little children. There is some constant act of becoming, and the wolf child must learn to kill. Everything seems born to bright mystery and dark fate. Maybe family is just a tribe of tame wolves. I wonder which of the arctic pups is still alive. My last night with the wolfpack ended with purple frost and everlasting evening dusk. The parents and brothers and sisters trotted away and just left us there with their babies in a heap. From far away, a howl of reassurance floated down to echo in their fuzzy ears. The pups sat up, tipped their cold noses to the frozen sky, and answered in lingering chorus. —- Memories from Ellesmere Island last Arctic summer while shooting Kingdom of the White Wolf. Watch it on your interstream cloudnet @natgeowild @atfilms @neilshea13 @ronan_donovan @tgerber63 @tator_hmmm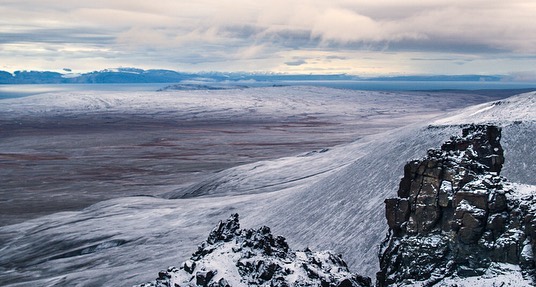 There was no way to know it would feel so vast. The tundra seems empty, and we seem blind. Another pack is out here, somewhere hidden, watching. They can always vanish. Look every direction - the land swallows your gaze, the wind steals your breath. When it stops, your ears feel hollow, straining for any other sound. A feeling of vertigo drags your core along the rolling crown of the planet. Its axis spins cleanly beneath you, the pole thrust up somewhere to heaven. Your being draws a small arc of time through the void. The edge of space is close, and that's where cold comes from, the nothingness. It haunts the fingers first and then, finally, the mind. That knowledge of ice shakes something awake. The sun comes up, and then doesn't go down. Maybe wolves smile at the way we seem lost, wandering, so loud. They've been here for ages forgotten, together. Wolf song rings out. Every fold of the land is their instrument, every step is a string they can play. There's something they want to teach us, when we're ready. When we stop searching so hard and get ready to see. Those are the moments they really appear. —- Memories from Ellesmere Island last Arctic summer while shooting Kingdom of the White Wolf with @tgerber63 @atfilms @ronan_donovan @neilshea13 @tator_hmmm for @natgeowild. @natgeo Magazine story is out and show is streaming on Hulu.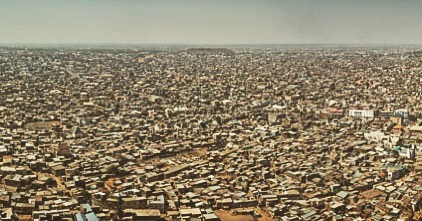 The desert is close. It looms to the north like a sea. Its wind comes to the city carrying the smell of dust, the heft of distance. In a crack between buildings there leans a wooden ladder mended with old cloth waving against a wall the color of mint ice cream. Sand drifts in from somewhere. Hooves shuffle. A pied horse loiters in this canyon watching the children watch the men who climb to the roof with solar panels. In the streets below there are clues to a year that feels medieval from the rooftops. But with all the antennas, plastic and photovoltaic cells, you just can't tell. It was always a city of commerce. The flowing robes of traders flash through the gaps as always, the wail of prayer sings against mud brick. The labyrinth grows just like the desert. Bowing pilgrims raise a low dam of humanity to hold back the Erg unseen.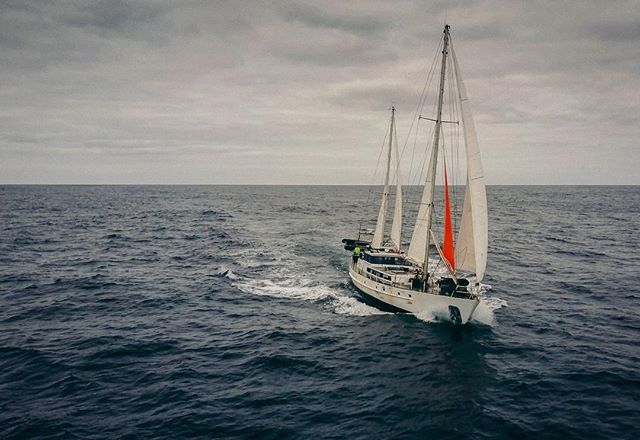 That sudden weightlessness, a surging wave, when the deck falls away underfoot. Then a roll, and another swell, the rhythm starts again. Please brace when seated, a foot against some bulkhead or rail. The floor turns sideways for a few seconds - it becomes necessary to stand on the wall. Any loose mug is now projectile. Each step makes some weird dance. Dolphins cruise by, giggling. An albatross banks to take a second look, stiff-winged and swift. Even a beautiful ship seems clumsy when compared. Another crest is coming. The tracking dog watches a mutton bone, four sea legs sideways swayed. Evening, now. Hamish starts his watch, and finally, that green flash sunset myth proves true. The stars come up from the sea. From the bunk, the porthole is a window half water, half air. Orion lingers. Sleep comes slowly to take the sickness away, a gray space of contemplation. You can hear the cold sea rush by inches from the ear, a hundred miles yet to land. A big wave bashes the hull, hard to believe that's soft as water. Was it an iceberg this time? A rogue shipping container? The body is a vessel, too. But the ocean is never tired. Soon, the storm becomes a lullaby.
The night rests. The sky is empty, no clouds to catch the light. Buildings rise as beacons, all lit with memory. One raccoon has come up with the tide. A glint of fur against the blackness, he fiddles the leaves, unwary of history. Jefferson's Memorial is round, like the dome of the mind, so exalted. This stone rolled over tomb is not meant to shut ideas. The cold marble waits where a visitor might sit, only a little while, to press hands on old geometry. (TBT)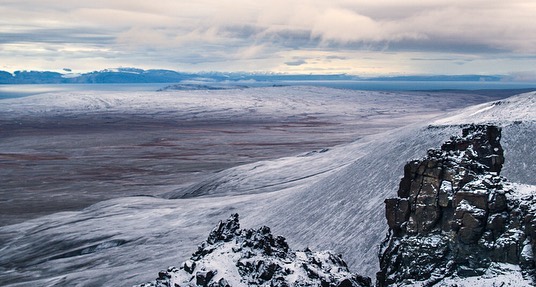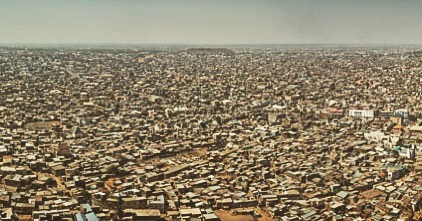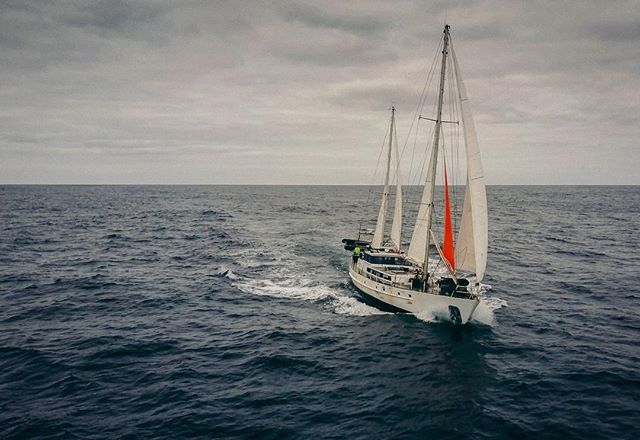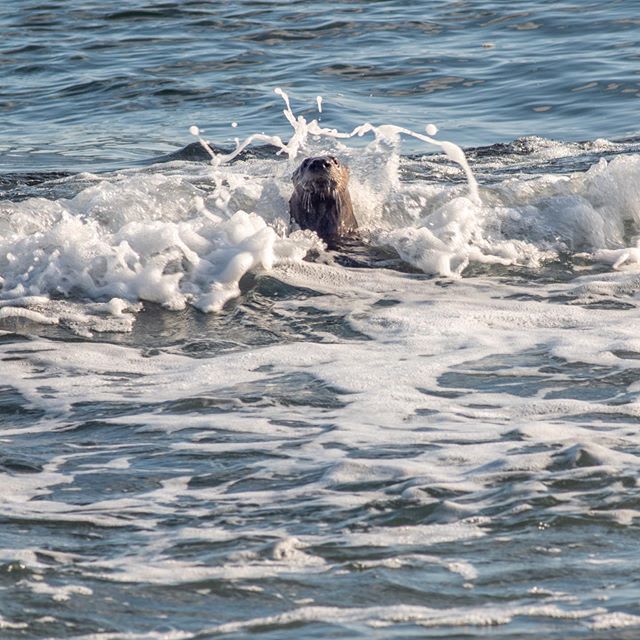 My mom, visiting from the other coast, marvels at the fluid boundaries here. She can't discern the edge: river otters ride waves, the forest continues into the ocean. She can't get over all the changing textures on a single outcrop: the lichen overlaid on pockets eroded into the sandstone, color-shifting in shadows of peeling paperbark & cedar strings, themselves smothered in bright gray-green moss. Meanwhile, I'm lost looking to the horizon, searching for motion in the ocean, always hoping for an orca. I'm all fleeting moments & flash encounters with creatures, the fast passing purples & pinks of dusk & dawn, the one time five otters swam by. It's as if I need credit for capturing the unusual, as if the spectacle is what's worth noting. I need the world to smack me in the face. The wonder's all there all the time, I'm just too busy anticipating to notice. I forget to attend to the marvels underfoot, at each & any step. I feature the excitement of the otters but our moment was an instant. My mom took much more time with the textures. The inanimate is always there. It gives as much as you care. My mom attends to much more of the world than I do. She lives on a more magical planet. Her home is twinkling crystals & four screeching parrots, sacred objects from most religions & from the sidewalk, the random shop, the beach. Last night she picked up a gull feather on a grimy downtown beach. I don't know why but I'm trying to appreciate gulls more too. I almost got it. The night before, I asked if she wanted a heaping bag of ᕿᕕᐅᖅ (qiviut, the soft underwool of the muskox). I'd collected the ᕿᕕᐅᖅ all summer in the Arctic, as the molting muskox left their softest parts in ground willows & the crooks of rubbing rocks. I collected impulsively, because the ᕿᕕᐅᖅ was so soft it had to be special, even sacred. I didn't know why I always plucked it up or what I'd do with it. Maybe my mom works through me. She'd raised me to be the kind of kid to go to that sort of place, collect that sort of thing, & bring her back a bag of it. When I made the offer, she looked at me incredulous: you have to ask? It's good to have her around. I start to see the magic again too.
Why move over a border? It's a strange sensation. The State pokes & prods, investigating your body, testing your native tongue, questioning your education, finances, your "life history". A friend warned of all the hidden expenses but their extent still surprised us. We 💰 almost as much to private companies as to 🇨🇦 . Immigrating is convoluted, complex, & expensive. And for us, it's easy. We could always just go home. Our country's 24 miles away. It's safe & still full of friends & family & opportunity. I'm reading a series of graphic novels about refugees & trying to fathom... I cannot. It's incomparable. Immigrating is easiest for us & we're the last people who need to immigrate. We just officially applied for permanence in 🇨🇦. If they permit us, we will stay. We have various narratives of how & why we're here (& our future's even more murky) but this will be home. We will have chosen it. That's a strange sensation too. You feel great family guilt. You miss distant friends & wonder why their spot's not enough to call you instead. I also itch. Why here? Why not down under? I recall morning parrots & the scent of eucalypts, I dream of S's bungalow & D's surfboards, the warm water & long empty beaches. Or why not further North, why stop down here? Lopez writes of the horizon, of growing from "longing to go" to "having gone"... Snyder advises to stay put. I think of some of the friends I admire most, the ones who know the salamanders beneath their city, the old sugar factory, every eagle's nest, all the tastes of their place & where to find food in any season, the totems in the telephone poles, the coolest corner in the canyon. I think of my brother. He stayed home & now knows places—underwater, out to sea—far beyond me. They're all of their place, each in their own way intimately intertwined with their home. Immigrating makes you wonder: why is home here? This wknd, we caught the rare deep low tide at dawn, wading out with hunting gulls & herons. We went up above to pick the last huckleberries with the ravens & whiskey jacks. At dusk, we noted a raccoon's city hideout. They didn't answer my question but the animals are good to wonder with.
Tonight the sun will set on Oomingmak Nuna (Muskox Land) for the first time since April 13th. The first night, the sun goes down for an hour. The next night, it's down for two. Each night lasts an hour longer than the night before. The first two weeks, night is not dark. The sun makes it below the horizon but night is just twilight. It's not dark enough to need a light but the warmth goes right away. You can feel the sun's reluctance to return, that it'll get very dark, very soon. This time last year, we were soaked in drawn out dusk-dawns, sunset-rises, painfully pink and purple skies. I'd rush to the ice beach to marvel at the pastels behind glacier blues then climb a ridge to watch the heavy deep blue loom on the horizon despite still-bright skies. Each day, the world got colder and scarier. The last birds had left, taking the color with them. The world creeped towards monochrome, everything slipping into a frosty silver. It was time to go home. We left when day and night were about an even split, in the middle of September. The Fosheim was already frigid. On October 22nd, the sun goes down and stays down. It will not rise again until February 21st, 2020. —- Photos from the Fosheim Peninsula, Oominmak Nuna (Ellesmere Island) while shooting Kingdom of the White Wolf with @tgerber63 @ronan_donovan @severalpictures @neilshea13 @tator_hmmm for @natgeowild. @natgeo magazine story is out & show is streaming. 1 | ice beach 2 | base camp 3 | One-Eye & the pups 4 | writing notes at the old wolf den 5 | search for White Scarf 6 | first moon in months 7 | no wind on the fjord 8 l scouting a muskox carcass 9 | field camp 10 | lone bull muskox at the scary beach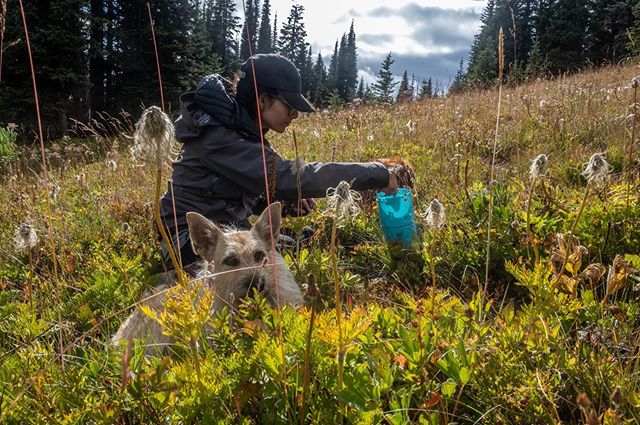 Huckleberry-ing. Grouse whortleberry-ing. Around here they're called xwíxwekw. Next valleys over: sḵw'elám, sḵw'eḵwchs. A fully ripe berry is sḵw'ḵw'il'; esyeḵ are berries already picked. Wooden combs rake the berries, cedar & fir branches dry them. Logging both ruins traditional berry patches & harvesting practices and makes patches easier to access, canning equipment in hand. Huckleberries, bilberries, blueberries (Vaccinium ssp.) are wild food cultivated by generations of First Nations. As a traditional resource over here, only salmon get mentioned more. First Nations show us how to live here, teaching as much about the now & the always as the before. We make friends & visits, attend workshops & talks, sit for stories old & new. We're reading Eden Robinson & Cherie Dimaline, Leanne Simpson & Joshua Whitehead. Our friends & visits teach us the importance of respect & acknowledgement, of ceremony & attendance to culture, of living with your place. As we listen & learn, orient to reconciliation & daily decolonization, our world changes. Our relationship with where we live matures & deepens. It's not don't touch it or leave no trace, nor grab that & turn it into 💰. It's get to know this berry & that spot. Give time to it, be with it, come to understand it. Rely on it, depend on it, make the berry part of you & you a part of it. Learn the different colors, tastes, types, places, patches. Remember, attend, return. FN words & ways change the world we live in. The same spot becomes a different place. A hike is a harvest, berry season an event. I scout for it, N asks after it: when & where will we go this year? A couple days are spent in fog & mist, kneeling in the dew, plucking berry after berry after berry. You're slow & sloppy. You don't know what you're doing yet but something shifts. The whortleberries whisper. They're the best tasting & the hardest to pick.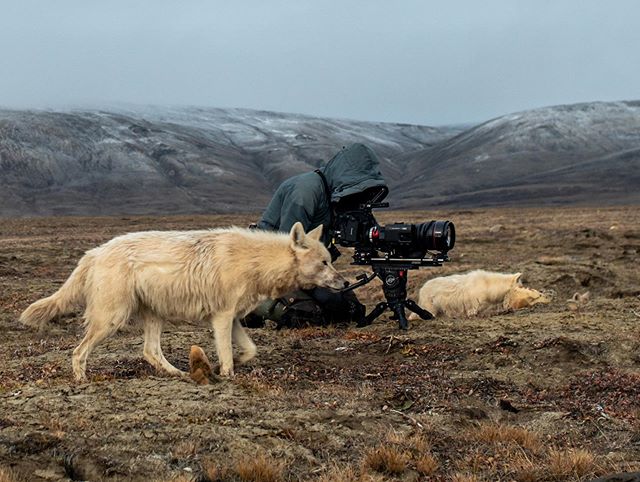 Last summer, autumn arrived in August. Three of us (and six tents) were at work in the High Arctic, camped at 80°N. Around now, @neilshea13 arrived & a seventh tent went up. We were there to tell an Arctic wolf story. The wolves found us as often as we found them. Over three months, we worked with two very different packs in two very different places. I wrote home of how much wolves love each other (& how often they sleep). The summer was surreal, more dream than reality. The sun did not set until the very end of August. Instead, under the midnight sun, the colors shifted slightly. Shadows turned blue, all hues tinted a tad purple. The world became still and the stillness brought a pure, absolute silence. I had never heard nothing before. The Arctic haunts me. I remember visions more than events, scenes instead of stories: polar bear poop atop a towering iceberg, a few hours sea-ice walk from shore; muskox passing through the valley like smoke, qiviut burning into the sky; a mother wolf's high howl disappearing into the singing wind; an Arctic fox, half silver and half white, digging up goose eggs; a lone loon on a lone pond; waffles and a wolf's shadow on the wall of the tent; interrupting a snowy owl peeling the face off an arctic hare; an endless ice beach, ever shifting, floes choking the fjord one day, gone the next. The way a wolf circles you to get your scent. I am humbled, honored, & grateful to be sent to such an impossible spot. Thank you to dir. @tgerber63, prodr. @tator_hmmm, NG photog @ronan_donovan, writer @neilshea13, DP @severalpictures & @natgeowild for taking me along. The wolves are glossy in the next @natgeo magazine; they hunted muskox on tv last night.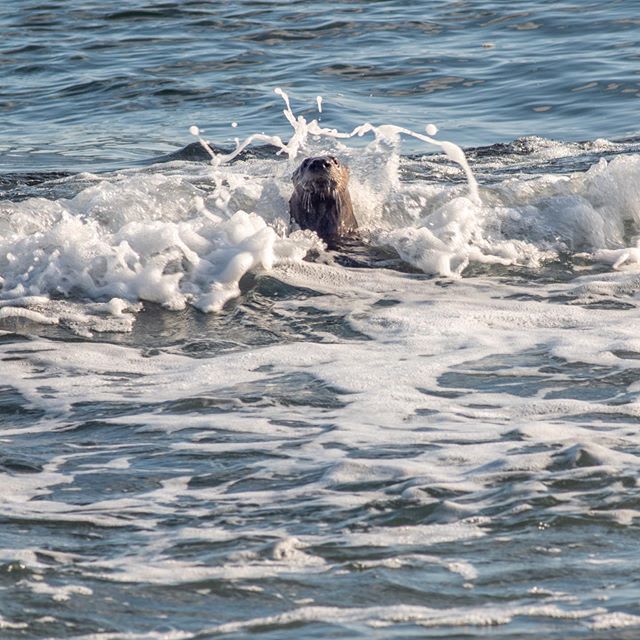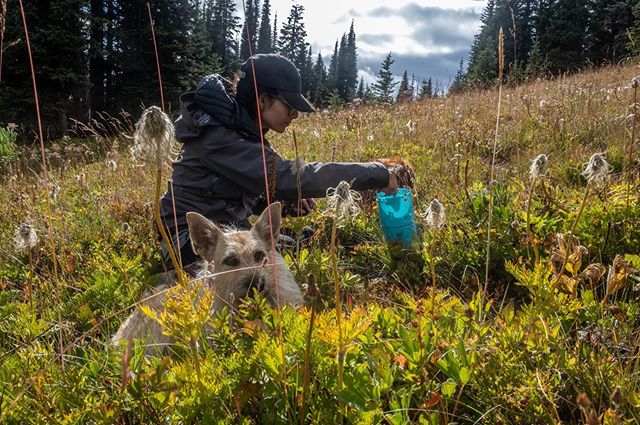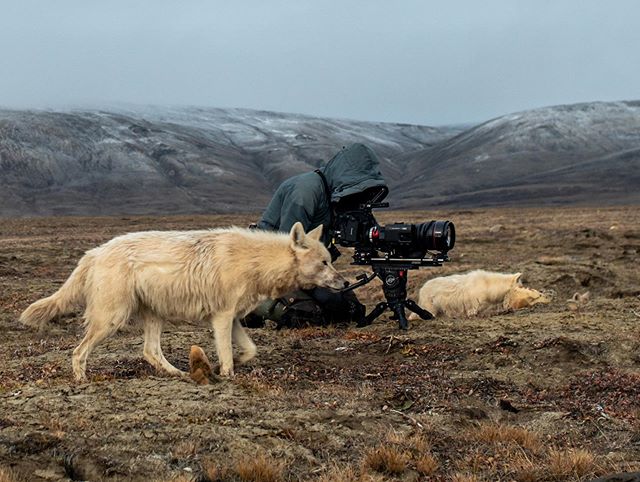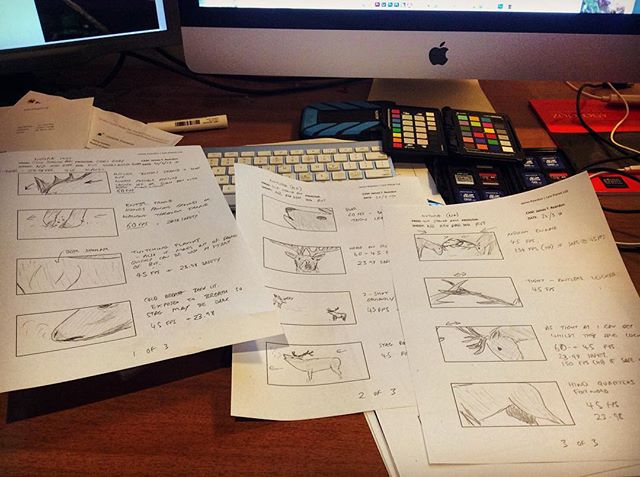 Having a plan is a handy thing. When filming wildlife you rarely have everything happen as you would like, there is no 'back to number one' for rutting stags but having a clear idea of what you're after is an essential. If the weather plays ball next week is occupied by a short shoot for Nat Geo filming red stags. Should be fun. . . . . #shootingscript #storyboard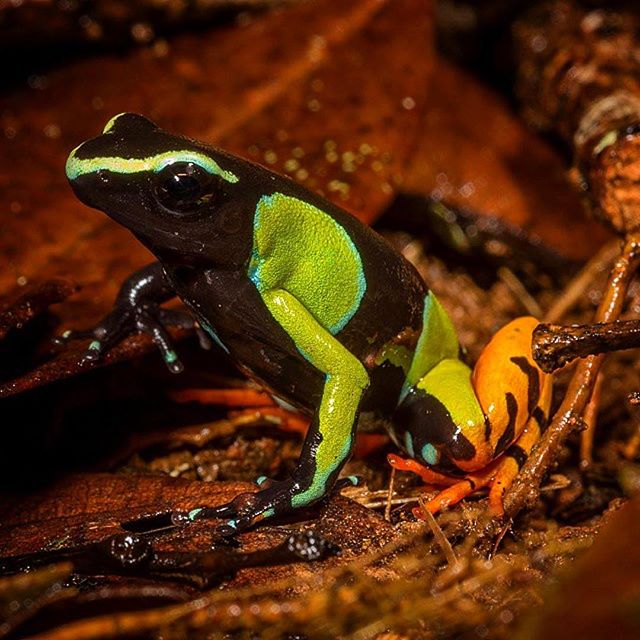 Another one for international frog day. Like a luminous plastic child's toy destined for the land-fill but absolutely real. I've known of the beauty of Madagascar's Mantella frogs for many years but seeing Mantella baronii for the first time in the wild delivered a wonderful shot of endorphins to slightly obsessive brain. Undoubtedly one of the most breathtakingly stunning frogs you're ever likely to meet. Like the poison arrow frogs of South America these delights also get the toxins their bright colours advertise from the alkaloid rich ants on which they feed. Sadly they are not only reduced to surviving in the tiny forest fragments not yet logged or burned, but also thanks to their small and isolated populations, they are extremely vulnerable to introduced diseases and invasive predators, like the Asian toad, that is now advancing across this tired but still majestic island. . . . #nature #instaessay #conservation #frog #environment #Mantella #iucn #wildlifefilmmaker #sonyF55 #canonnz #sonynz #madagascar #worldfrogday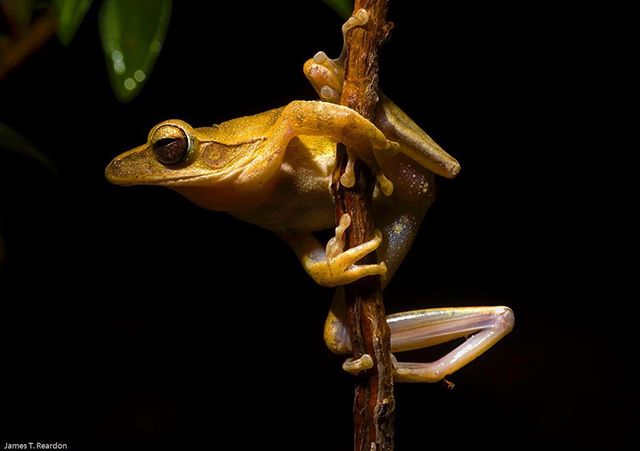 It's international frog day apparently. I'm not sure exactly what these 'international day of' type things achieve but it's an excuse to post something lovely. I thought of some of the wierd and wonderful frogs I could post but surely we can celebrate the more ubiquitous species too. If you've been to south east Asia, chances are you've heard these chaps barking away at night after a downpour. This male Polypedates leucomystax tree frog was calling for a mate and competing with other males around an ephemeral pool on the banks of a small river on Ko Pa Nyang. The pools below were filled with tadoples from a thunderstorm from the week previous that had stimulated breeding. Whilst this species is common (IUCN Least Concern), and fairly drab by some froggy standards, it's still an exsquisite animal, subtly elegant and quintessentially a tree frog, perfectly adapted for arboreal movement. . . . . . #canonnz #wildlifefilmmaker #frog #polypedatesleucomystax #thailand #khopangan #worldfrogday
Places that mean something special aren't always as we imagine they will be. For reasons I'm not quite sure of, southern Rakiura is one of those places for me. The weather is dreadful, the walk in hardly a pleasure, especially in the wet with a big pack, the biodiversity limited and subtle yet it has something that drags me back. . . . . . #sonyF55 #docgovtnz #stewartisland #newzealand #earthcapture